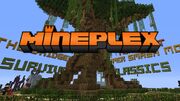 Mineplex is a server in Minecraft PC and Minecraft PE. The website is mineplex.com.
MCPE
The IP in MCPE is pe.mineplex.com. Mineplex PE has games such as Survival Games, Turf Wars, and Dragon Escape.
MCPC
The IP in MCPC is us.mineplex.com for American players, and eu.mineplex.com for European players. Mineplex PC has the aforementioned games along with Dragon Escape, Sky Wars, Evolution, Bomb Lobbers, Death Tag, Dragons, and many others. Mineplex PC was the most popular PC server until Hypixel surpassed it in mid to late 2016.